What The Hack! Recapping Factual's 2017 Hackathon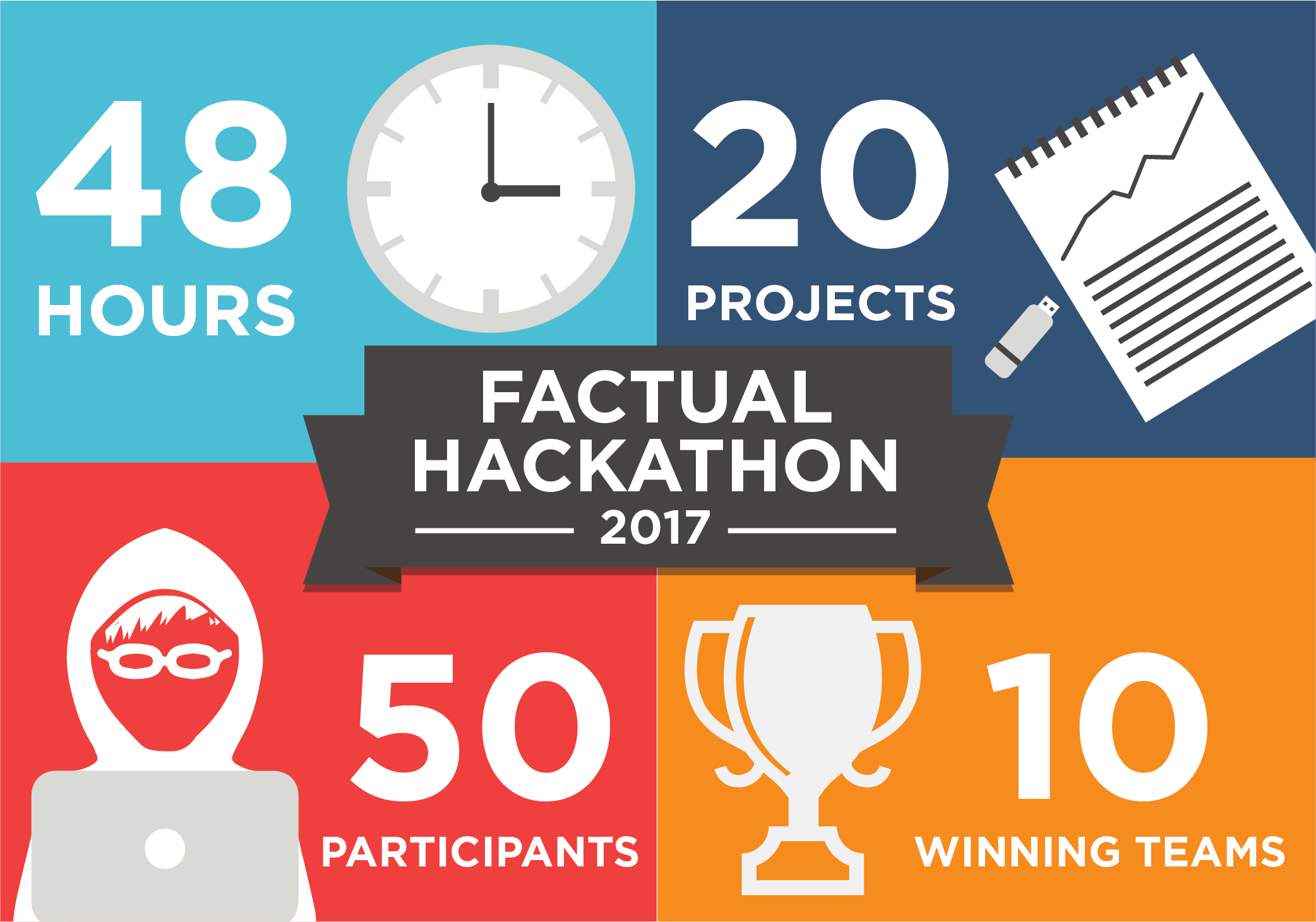 Last week we held the 6th Annual Factual Global Hackathon at our headquarters in Los Angeles. Each summer, employees and interns are encouraged to spend two full days solving challenging problems, creating new code, exploring new product directions, pushing the envelope, and of course, having some fun!
Factual's annual hackathon releases an absolute torrent of pent up energy and creativity, all aimed towards solving nagging problems or tackling new opportunities. I really love seeing teams form organically by people who share similar interests and ideals. And most of all I enjoy seeing the team's amazing results and their commitment to moving mountains in just a short period of time.
– Gil Elbaz, CEO
Our Hackathon is known across the company for its lively discussion, intense collaboration and lots of tasty food! We open up the 'dance floor,' our main event space, as a team work area and provide energy drinks, throwback snacks (Gushers, anyone?) as well as breakfast, lunch, and dinner catered in each day to ensure our hackers maintain their stamina during the 48-hour sprint to the finish.
This annual tradition has been an important part of our culture here at Factual and inspires all five of our core values:
We are owners – Think, act, and plan with the mindset of a real owner. Each Hackathon team had up to five members and one team captain. Each member of the team is an owner of their idea, their project and their final Hackathon presentation on Friday morning.
We are analytical – Think critically: collect and follow the data. This year's Hackathon focused specifically on highlighting our data and revealing insights about users and delving into the "consumer journey."
We are transparent – We believe that making data accessible — both internally and externally — results in better outcomes. During the Hackathon we are making data accessible to all of the hackers to help them build out new ideas and improve upon current products and workflows.
We are gracious – There is value in working with nice people. One of the most important aspects of the Hackathon is the ability to learn from and teach others. We are gracious and help those that are lost and teach those who want to learn.
We are inclusive – If we wanted identical employees, we would employ robots. Our Hackathon is open to all employees within the company to help increase participation across all teams, foster team building, and help boost our company morale.
While all 20 projects were inspiring, helpful, and innovative, 10 teams were named winners. Click here to view the winner photos and other hackathon pictures on our company instagram. Thank you to all that participated and congrats to our 2017 hackathon winners!