Changes in our Global Places Data – Q2 2014
Back in April we talked about the challenges of keeping our Global Places data as fresh and clean as possible. Because Factual's data represents the real world- which is changing every day- we have to update it often to make sure we're providing the most accurate records possible. Here's a quick look at what's gone on under the hood of the Factual machine in the past three months (or in business-speak, Q2).
Here are the changes to 11 countries between April and June of this year. Overall, we added just over 12 million records, removed nearly 9.5 million old records, and updated at least one field1 in over 25 million records. The distribution of these changes by country is shown below: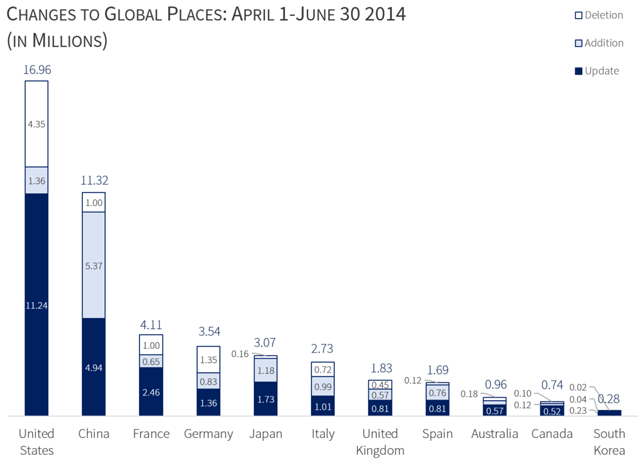 The overall breakdown of updated fields is represented in the following chart2: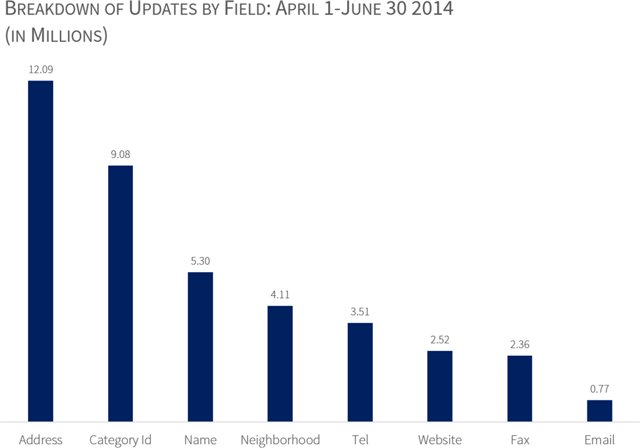 It's a tough job staying on top of the world's places, but we're up to the challenge.
– Julie Levine, Marketing Associate
Factual's Global Places data contains over 65 million business listings and points of interest worldwide. To access our Global Places data, either use your existing API key (or get one here) or request a download.
Notes:
Fields include: address, address extended, category id, country, email, fax, locality, name, neighborhood, po box, postcode, region, tel, website.

Note that some records had updates to more than one field, thus the number of updates is larger than the number of updated records.