Changes in our Global Places Data – Q4 2014
Place data, like most things, has an expiration date. Go too long without picking a fresh crop, and you end up with something stale an unpalatable— or in many of our partners' cases, even unusable. This is why we work tirelessly to refresh and improve Global Places all the time. We clean out listings for places that have gone out of businesses, add ones that have recently opened, update changed websites and names, and so on.
Below is a summary of some changes that we've made since our last update. In the 11 countries listed here, we added about 5.2 million places, discarded about 6.3 million old records, and updated at least one field1 in 9.4 million records.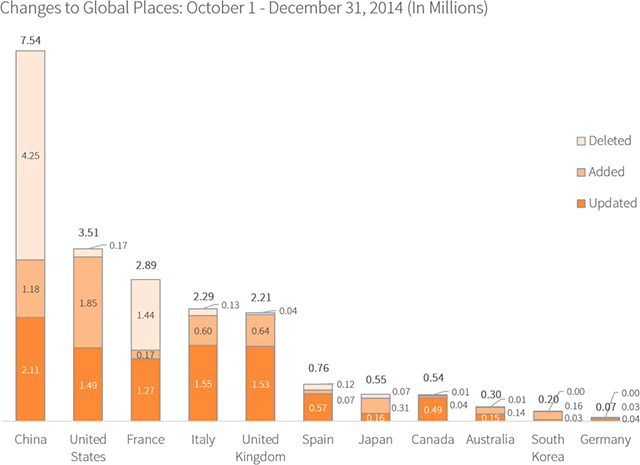 See the breakdown of these updates by field in the chart below2.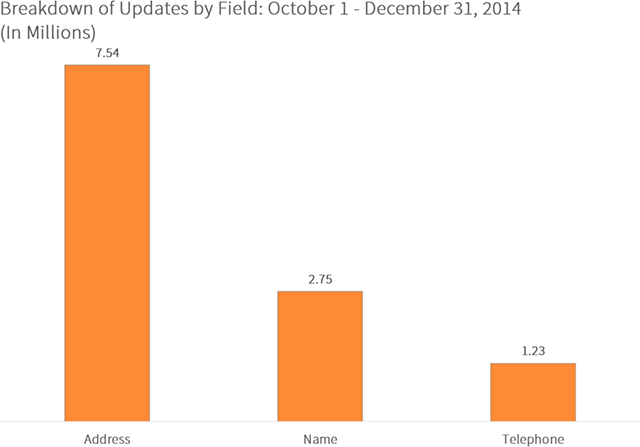 What better way to start off the new year than with a heaping plate of fresh data?
– Julie Levine, Marketing Associate
Notes:
Fields include: address, address extended, country, locality, name, po box, postcode, region, tel.

Note that some records had updates to more than one field, thus the number of updates is larger than the number of updated records.