Factual Team Volunteers at CODEchella
While many LA locals were getting ready for Coachella, a few of our team members
decided to head to the student coding event CODEchella. CODEchella is a unique
learning competition organized by YouthBuild Charter, a competency-based dropout recovery charter
school, where students are challenged to build an entire website for a local small
business in just 12 hours.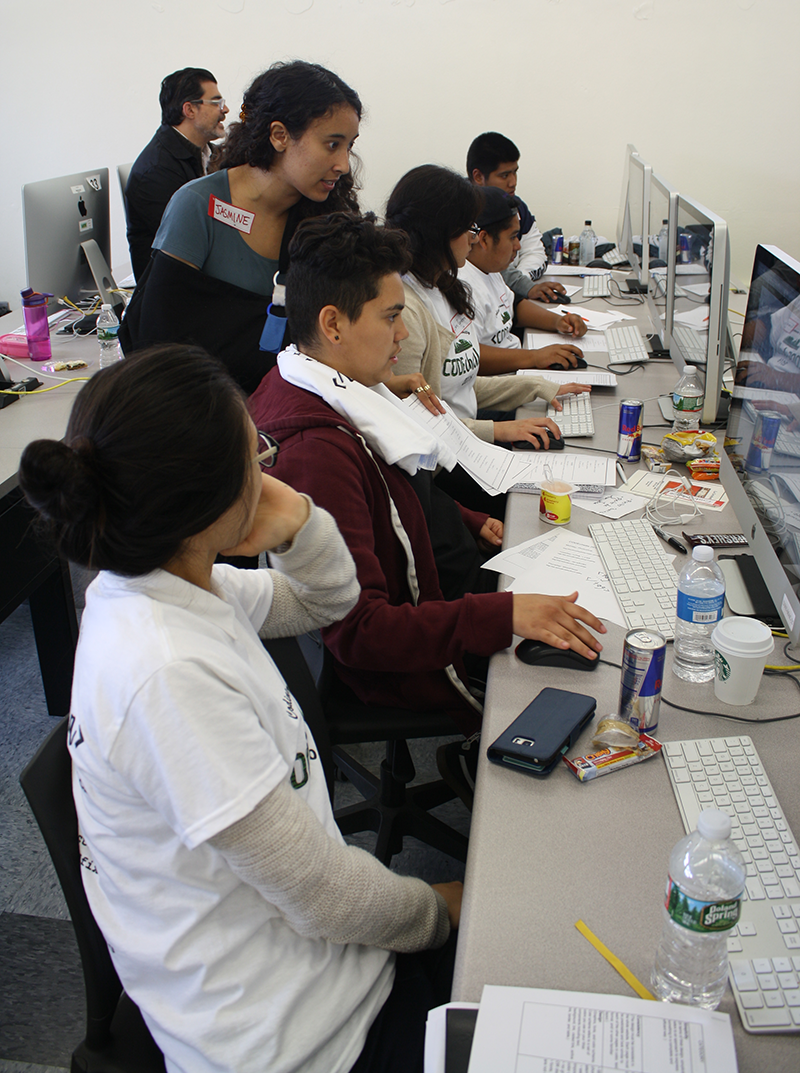 The 3rd Annual CODEchella event
took place on Saturday, April 9 at the Los Angeles Trade Tech College. Throughout
the day, volunteers assisted students in the design and implementation of their
clients' websites. To prepare for the day long hackathon, the students spent their
spring break learning technical skills such as Adobe Photoshop,
HTML/CSS/JavaScript, and WordPress.
Factual volunteers for CODEchella included myself, Chip Jackson, Eric Lui, and Rani
Pradhan. There were also volunteers from Second Spectrum and other local tech
companies.
We enjoyed teaching the students skills they could use in the future and were
inspired by their unbounded enthusiasm and resilience in the face of technical
challenges. A student I was working with was struggling with HTML tables, so as a
programming exercise, I tried to illustrate how a table would look if your HTML was
incorrect. I accidentally crashed WordPress and deleted her tables… twice. By the
third time she made the tables, she was able to do them all without asking for help
once. Later she shared that coding at the beginning of the day was frustrating, but
by the end of the day she felt like she could see herself doing this as a
profession. As a software engineer, I found the growing pains of learning new
technical skills highly relatable, and it was a reminder that I'm still learning,
too. Overall, this was an overwhelmingly positive experience to be a part of.
My colleagues had similar experiences:
My favorite part of volunteering was seeing the enthusiasm of the students at the
event. They had lots of ideas and opinions, which showed they really cared about
how the websites turned out. Reaching consensus was sometimes a challenge but I
was impressed by how quickly the team came together. In the end, I think everyone
was really proud of the final product.
– Chip Jackson, Software Engineer
Youthbuild Charter's STEM education team really does so much with so little. It's
a pleasure to see sharp, enthusiastic minds at work.
– Eric Lui, Director of Data Operations
"Coding for the community" is the HTML header for the CODEchella event page, and it highlights what is important to us at Factual as well. We want to give back to our community and help bring up the next generation of coders. Factual has attended the event the past three years, and we look forward to participating next year. To learn more about CODEchella and YouthBuild, please visit their website here.