Increasing Transparency with Data Preview 2.0
Here at Factual, we have always tried to make our data as accessible as possible. We believe that a key part of accessibility is transparency. After all, data is not really accessible if prospective consumers can't easily evaluate it. To this end, our data has always been publicly available to explore on our site through our data preview tool. Today we announce Data Preview 2.0 – a set of usability improvements and new features that make it significantly easier for anyone to explore our data and understand what exactly we offer prior to consuming it. Here is a quick tour:
Data Preview has 5 main areas:
Full-Text Search – runs a full text-search across every attribute in the data
Filters – allow you to filter the data down to the exact data you wish to see
Searchable Map – allows you to both visualize geodata and search data via the map
Data Table – shows you the actual data, row by row, that meets your filter criteria
Facets – displays row counts faceted by major attribute values and provides a shortcut to filter by specific facet values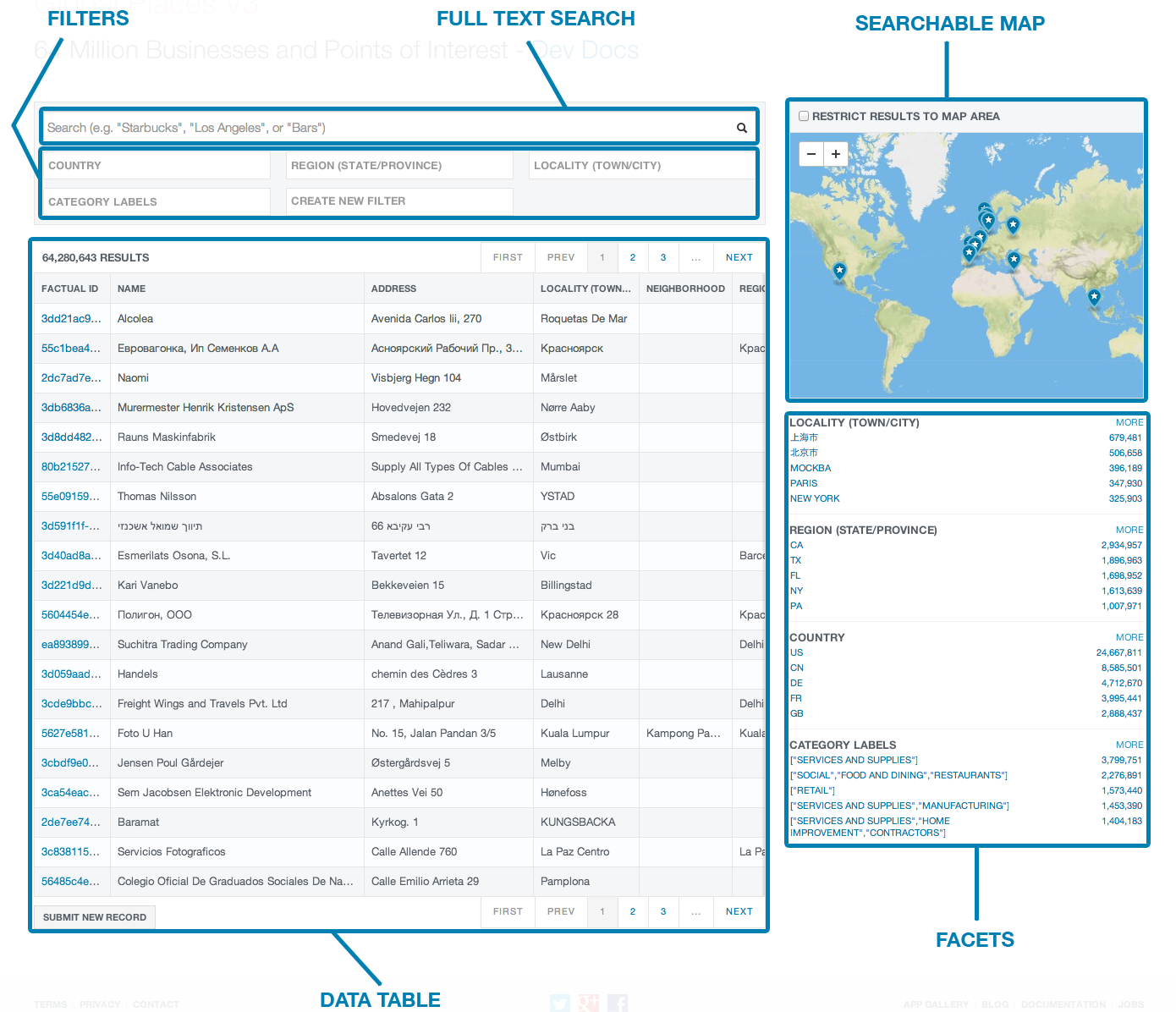 Let's say I was interested in building an app focused on coffee shops, so I needed Places data on coffee shops. I ran a full-text search for "coffee" in the Global Places data preview. I don't have a great sense for how many coffee shops there are globally, but it's good to know my app will be useful around the world.  I live in West LA, so I filtered the data down to the cities of Los Angeles, Santa Monica, and Culver City in California – an area I'm much more familiar with.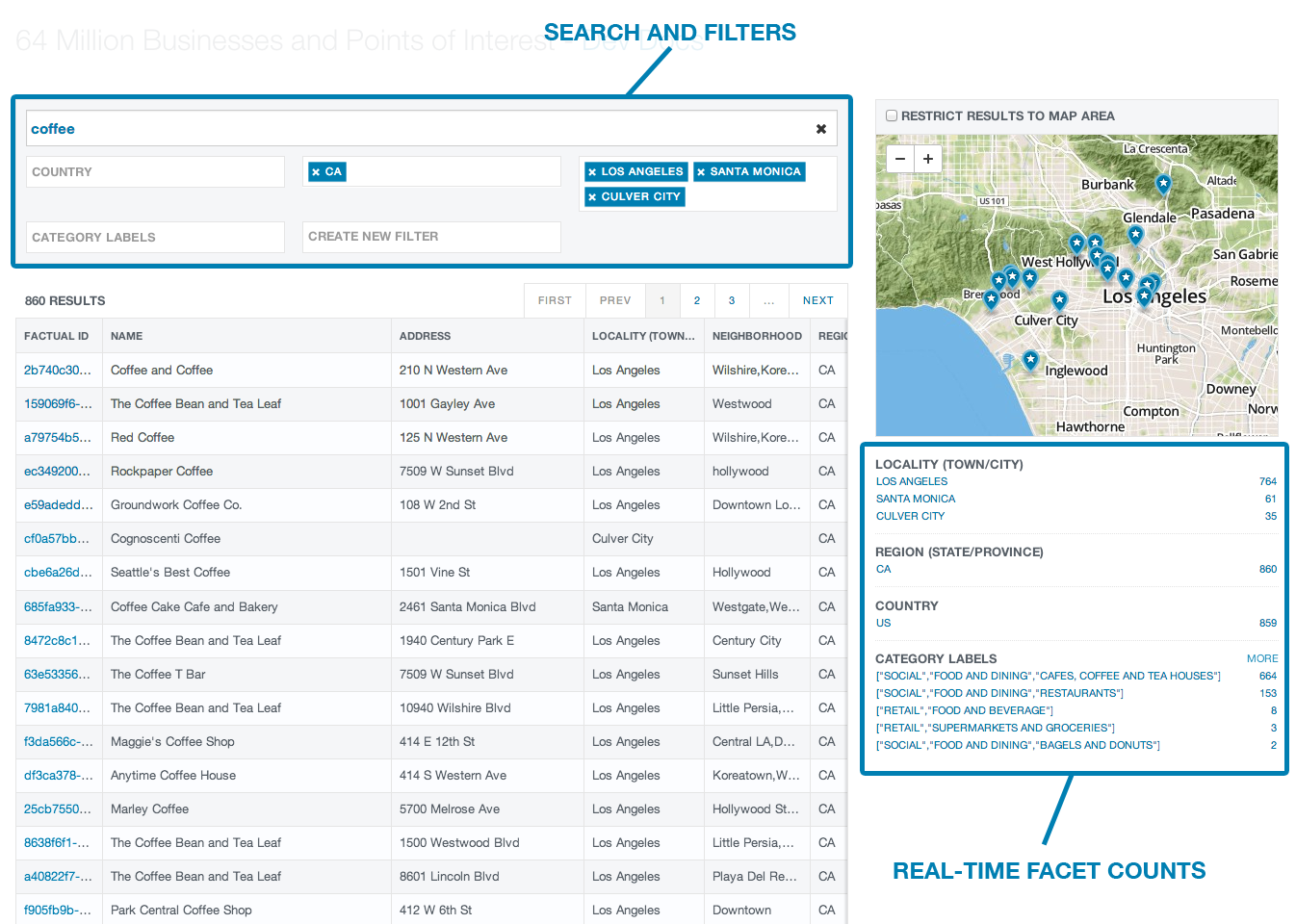 I used the map to zero in on Century City and so I could QA the data around my office and look at specific shops that I know exist.  Since my app is much more about smaller coffee shops than big chains, I also filtered out all Starbucks locations.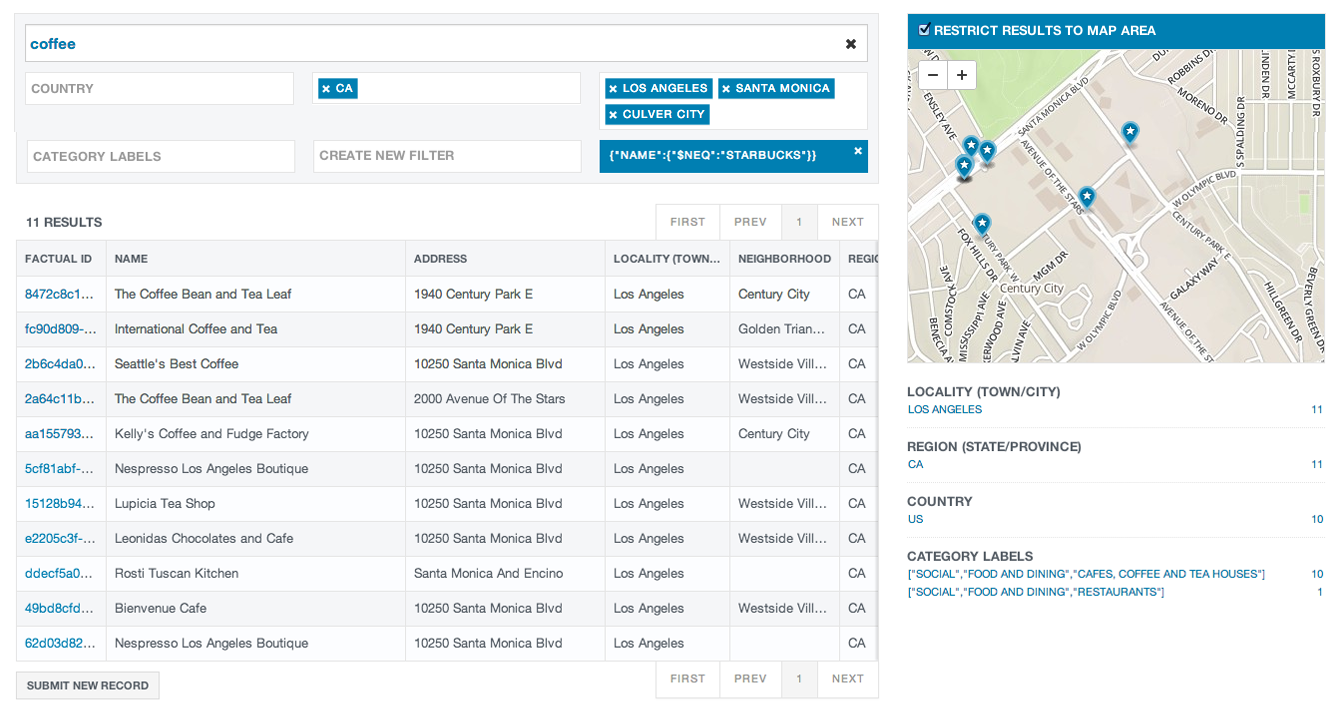 Now I can see how every coffee shop around my office is represented in Factual data, and I can develop a level of trust prior to using it.
I hope these improvements to Data Preview make it easier for you to examine our data and quickly decide if Factual data meets your needs. So please, dig into our data! Our Global Places data covers 64 million local businesses and other points of interest in 50 countries, with deep attributes on Restaurants, Hotels, and Healthcare Providers.  Our Global Products data covers over 650,000 consumer packaged goods with food nutrition info and ingredients data.  If you like what you see, sign up for an API key or request a download.
– Vikas Gupta, Marketing / Operations