Here at Factual, our goal is to make the work week an enjoyable experience for our team — on a personal and professional level. Data shows1 that happy employees are 12% more productive, whereas unhappy employees are 10% less productive. Research also shows that happiness at work isn't solely connected to compensation. With that in mind, Factual offers many benefits including monthly team events, such as go karts and murder mystery dinners, catered Friday lunches, and one of my personal favorites, an in-office, lunch-time yoga class offered on Mondays and Wednesdays.
After being at Factual for more than two years and participating in our yoga classes on a regular basis, I've noticed a few parallels between this company activity our company culture. Below is my personal experience as a Factual yogi and how it's contributes to my positive Factual employee experience.
Self Care

A company is only as good as its people. This is why we've done our best to create a company culture that values our employees' wellness. Our flexible personal time off policy, healthy snacks, and regularly scheduled yoga and pilates classes are a few of the wellness perks we offer our team.
Yoga to its very core, is a practice of self care — taking time out of your day for yourself, learning to breathe the best way for your body, allowing your mind to rest from the chaos of the week, and so on. The best part of having yoga at the office is that it's easily accessible. You can enjoy it in the middle of your day and return to work feeling refreshed. At Factual, taking an hour out of the middle of the work day to take care of yourself is not only allowed, but it's encouraged.
Community

Factual — like yoga — offers a strong sense of community. We're proud of the team we've built together and we enjoy getting to know our office mates, in and outside of our direct teams.
Our bi-weekly yoga class furthers this strong community environment. We get to know our colleagues on a more personal level and enjoy spending time with each other during our classes. Our similar interest connects us as a group and our OM at the end of each class connects our breathing. We're also lucky enough to have a wonderful yoga teacher named Alex Dawson, who supports our Factual yoga community by getting to know us and our company culture.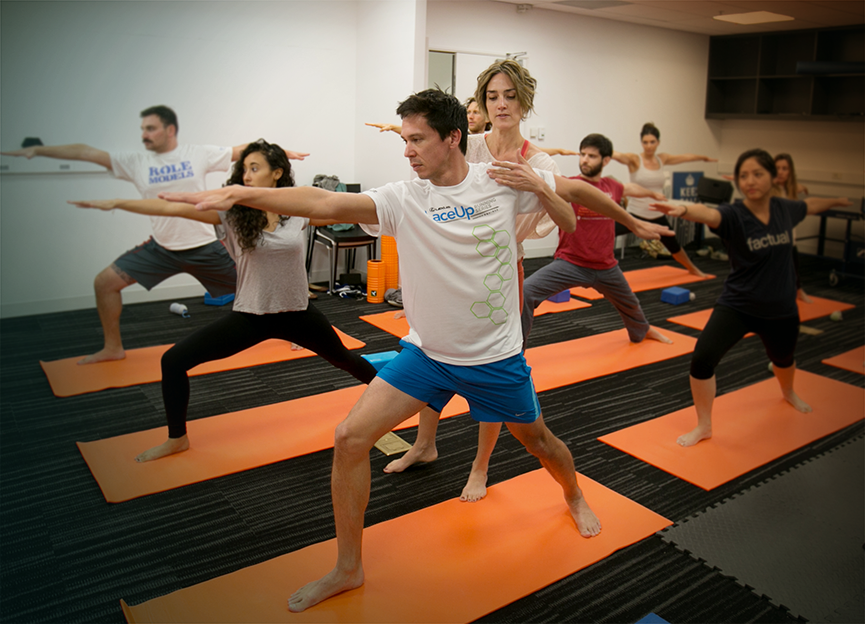 Progress

One of the many reasons I enjoy working at Factual is the support I receive to grow, personally and professionally. Open dialogue with team leaders and quarterly reviews provide opportunities for success and personal growth. Factual very much understands that to be successful as a whole, we must be successful as individuals. In return, this creates a culture of people who want to grow, not one that encourages people to just fill a seat from nine to five.
Yoga culture is very much focused on progress — just do a little better than you did the time before. Every practice, aka class, has a focus. By focusing on one specific point of yoga, like learning to flow in the rhythm of your breathing, our yoga practice progresses a little bit with each class. And bringing back the point of community, those who attend yoga often notice and acknowledge other team members' progress in their practice.
Here are a few more benefits of afternoon yoga as stated by our office yogis:
"After yoga, I have more energy and I am more productive the rest of the day. It shows Factual cares about its employees and is willing to provide programs that contribute to our well being."
– Anna, Finance
"Yoga at the Factual office is a great perk that allows me to leave my desk for a while to re-energize during busy days. It also helps me stretch from my other workouts, such as our Factual soccer team."
– Alexander, Sales
"I have gotten so much joy out of returning to my yoga practice since I joined Factual. I have trouble finding time for it outside the office, so it's an incredible luxury to have a teacher like Alex and to share a small, focused class where we can can stretch, laugh, and try new things—even when we mess up! It's my time of play in the workday, and I like that we support that here."
– Sam, Engineering
"Yoga is a science of the mind and a physical practice in the body. It is the human reset button in the middle of the work day and I am honored to be a part of the practice with this awesome group at Factual."
– Alex Dawson, Factual's Yoga Instructor
Whether or not we each practice the philosophies of yoga in our weekly routines, our team does believe in the importance of a healthy, happy work environment.
Notes: