Presenting the MMA Study on How Marketers Use Location Data
Last week, Factual had the pleasure of sharing research findings from the Mobile Marketing Association's 'How Marketers Use Location Data' study, alongside their Head of Industry Research, Vassilis Bakopoulos. This MMA webinar highlighted the methodology, core findings, and the future uses of location data for agencies and marketers in the Auto, CPG, Financial, QSR, Retail, Tech and Travel verticals.
It came as no surprise that one of the primary uses for location data reported was targeting. Over 50% of marketers and agencies noted they are using location-based targeting in over half of their campaigns. Real time location-based audiences, location-enabled creative, and proximity were the three most valuable targeting tactics, while social emerged as the top ad format for location data.
On the other hand, the research highlighted an emerging trend that agencies and marketers are moving beyond targeting and using location data for insights, measurement, and attribution. 78% of respondents reported an increase in location-based mobile spend with the availability of foot traffic measurement. This demonstrates that confidence in foot traffic data is driving reinvestment in location spend.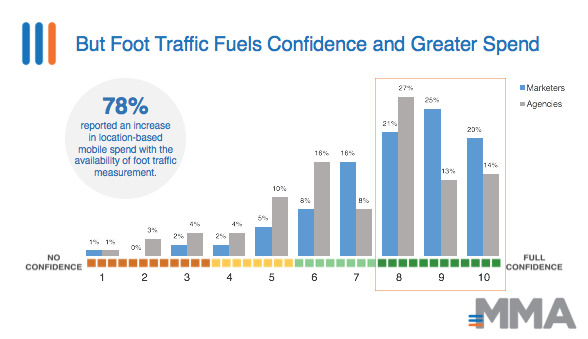 While the number of use cases are growing, marketers and agencies still have some key concerns about purchasing location data. Data quality, lack of transparency, and vendor differentiation rank among the top concerns for marketers. Agencies overall seem less concerned, likely because they work with multiple data providers on behalf on numerous brands. Despite the challenges, over 90% of marketers and agencies identified location data as a key component to their mobile strategy. This indicates we will likely continue to see location data get integrated throughout all marketing initiatives, as well as used to boost brand equity and customer experiences.
Download the full whitepaper for a detailed look at:
How much agencies and marketers are dedicating to mobile location spend
The use cases and targeting tactics leveraging location data
The key concerns and challenges of accessing and using location data
Differences between how agencies and marketers view using location data
Watch the video here: