Now in Public Beta: Observation Graph and the Next Generation of Geopulse Audience
Today we are announcing the public beta release of Observation Graph and the next generation of Geopulse Audience. The Observation Graph technology is a new way of understanding the real world behavior of mobile users that will power the next generation of Factual's products, starting with Geopulse Audience. These products will give advertisers access to more powerful location-based audience targeting capabilities and mobile developers advanced personalization tools for their mobile apps.
Observation Graph is a method of cataloguing real world user behavior that provides an in depth understanding of mobile users. It combines location data and other sensor data from mobile devices with Factual's digital understanding of the world, generating discrete "observations" on mobile users. Types of observations include place visitation, event attendance, activity detection such as walking or driving, presence at user-specific locations such as home or work, and digital activity such as apps used or mobile device characteristics. Observation Graph is designed such that new types of observations can be easily added to the graph as more data becomes available. Furthermore, Observation Graph understands the relationships between observations, enabling high quality predictions about users based on their observed behaviors.
Observation Graph is built on Factual's best in class Global Places data. Global Places is the leading database of local businesses and points of interest, currently covering over 100 million places in 50 countries and updated on an ongoing basis. Global Places is used by thousands of mobile apps and companies including Apple Maps, Microsoft Bing, Facebook Places, and Uber. Observation Graph also uses Factual's sophisticated place-attachment methodology to understand the specific places a mobile user visits. Place-attachment is on average 33% more accurate at determining the specific place that maps to a device generated lat/long when compared to the traditional method of simple geofencing / point-in-polygon calculations.
Geopulse Audience is the first Factual product to incorporate new capabilities enabled by Observation Graph. Releasing in public beta, Geopulse Audience powered by Observation Graph offers advertisers improved flexibility, scalability, and quality.
Flexibility: Advertisers can create custom audience segments based on an extensive set of observations captured in Observation Graph. Targeting capabilities will include criteria such as day of week and frequency of visits to specific locations. And capabilities will grow as more observations are added. These capabilities are designed for accessibility – moving the power of highly custom segments out of the domain of data scientists and into the hands of every day planners and strategists.
Scalability: The predictive capabilities of Observation Graph enable the ability to discover observed behaviors that correlate highly with a desired segment. Using highly specific criteria can sometimes yield audiences that suffer from lack of scale. With the power of Observation Graph, Geopulse Audience can now increase the scale of a campaign by finding the most similar users to a custom audience.
Quality: Observation Graph enables advertisers to build high quality audiences because place-attachment provides more accurate location targeting than simple geofencing or point-in-polygon logic. Additionally, Factual verifies every lat/long through our Location Validation Stack to help ensure that only accurate and precise data is used to generate observations.
As an early launch partner of our Observation Graph technology, Xaxis has run several campaigns using the new capabilities, including one by a popular food CPG brand. Xaxis and Factual created a custom audience segment of BBQ Enthusiasts, which included mobile users found at places like campgrounds, parks, beaches, and other outdoor locations on weekends, during lunch and dinner time. This campaign performed extremely well, driving a material increase in brand awareness.
"Location is one of the key components to being successful in mobile, and it's not easy to do well," said Janie Gaughan, Director of Product Strategy, Xaxis. "Factual has been an integral partner of ours for over two years, not only because of the quality of their data but also because product innovation like Observation Graph makes the data transparent and accessible."
A new version of the Geopulse Audience Designer (screenshot below) enabling self-serve creation of custom segments will be released by Q1 2017.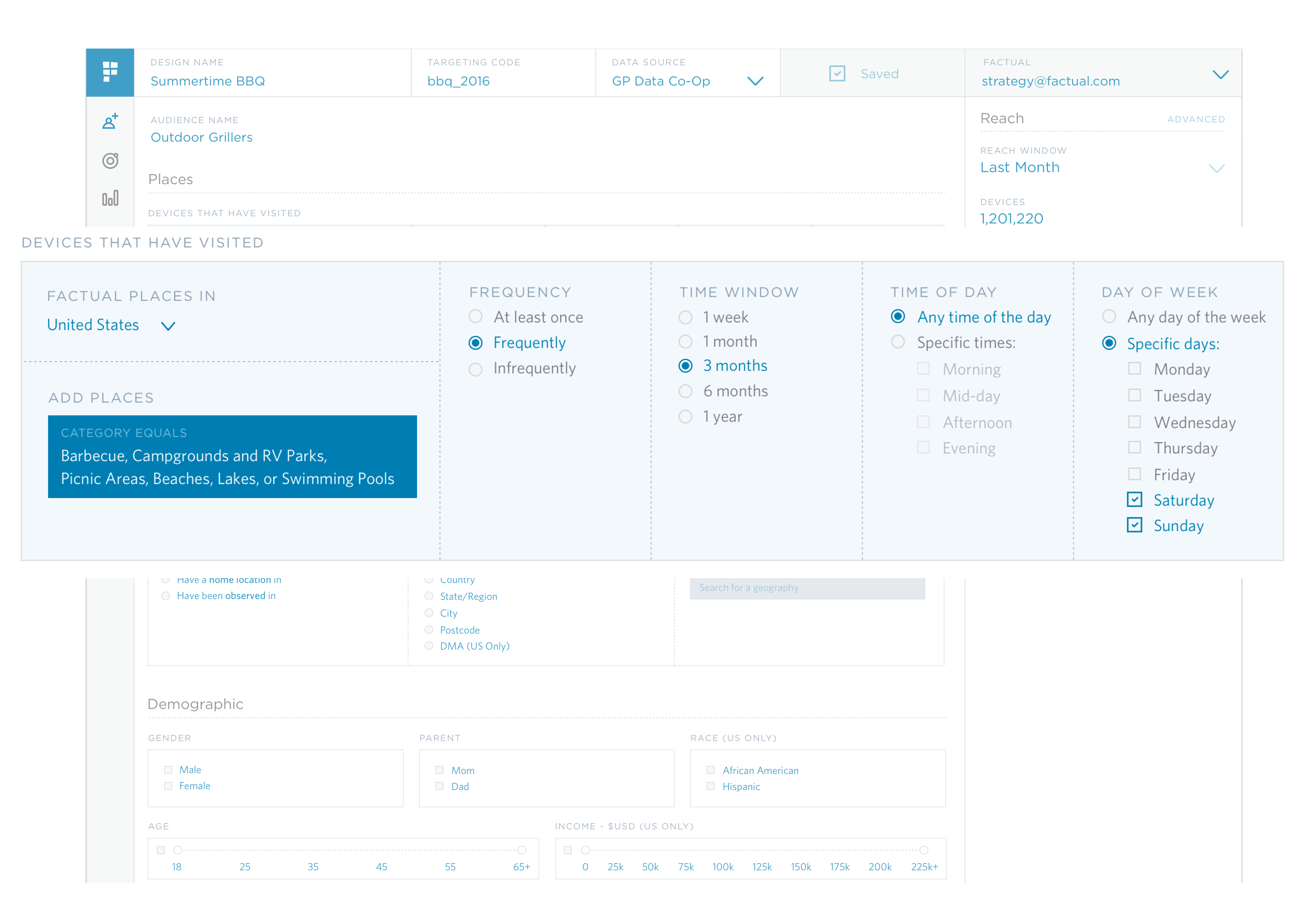 Observation Graph is currently cataloging over 200 billion observations on over 300 million mobile devices per month. The new targeting capabilities in Geopulse Audience are in public beta and available in consultation with Factual's location strategy team.