This weekend, Santa Monica's Coloft was home to some 80-odd entrepreneurs and developers at LA Startup Weekend. The format went like this: participants showed up Friday night, ideas were pitched, those ideas were voted on, and teams were formed around the top 12 ideas. The remainder of the weekend was dedicated to building those ideas out (be it a live demo, pitch deck, etc.).
Factual was proud to be one of the sponsors of LA Startup Weekend. It allowed us to connect with a new crowd of creatively-charged individuals on our home turf. And in addition to sponsoring, we also held a contest exclusive to LA Startup Weekend, in which we awarded the team who demonstrated the most creative use of Factual with Kindle 3Gs! (Yes, each team member got their very own Kindle!)
We are happy to announce that the winners of the contest were Team Hinty. Hinty, who also won Best in Show at LA Startup Weekend, created a mobile app that does text-to-speech for RSS feeds. Hinty's approach is unique in that the experience is initiated through text messaging. "Using Factual really simplified the backend work," one of the members of Team Hinty told us. "It will make it much easier for all of us (non-developers especially) to add and update our index of news sources in the future. We're proud to have used Factual and we look forward to seeing how else we can use it in the future."
We'd also like to recognize the runner-up, Beerdar, for their creative use of our beer dataset.
We are considering the idea of expanding our contest to Startup Weekends across the country (maybe even the world!). So if you would like us to sponsor a Startup Weekend near you, let us know in the comments below.
Here's a complete list of the startup teams from this weekend (as well as a few photos):
BeerDar: Follow beers, discover new ones
FlashPay: Close open tabs via SMS
RecipeByte: Social recipes
Hinty: Your life, out loud
get chummy: Find a new buddy today
PeerLance: Where friends hire friends
BoxOfficeBuddy: Bringing movie lovers together
dibdate: Pay per date while you donate
PlaceBomb: Share it There!
Chuck a Buck: Changing the world one buck at a time
Jumble Pin: Jumblepin helps you organize, remember and share the places you treasure.
Checkin Checker: Shared guest blacklist for hospitality industry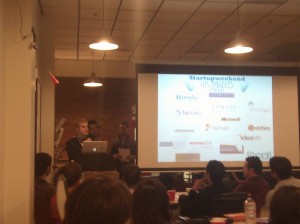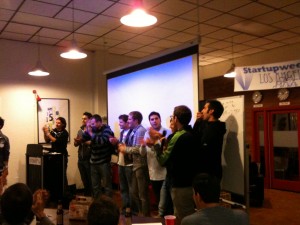 Thanks to Startup Weekend, Coloft, and the many organizers and sponsors who made the event possible.
– Grant Nestor
Marketing, Factual