Three Recipes for Mobile Campaign Success
At Factual, we pride ourselves in being a neutral provider of quality location data, and rely on our best-in-class partners to spread the word. That's why we were pleased to be included in The Trade Desk's new Mobile Made Easy Recipe Book. Their recipe book provides step-by-step recipes for mobile campaign success. The idea inspired us to join the fun, so here are 3 downloadable Recipe Cards which are sure to delight even the most discerning advertiser palates.
---
With consumers spending more and more time on mobile devices, programmatic mobile advertising is a crucial component of every smart advertiser's media mix. With Factual and The Trade Desk, you have everything you need to achieve mobile campaign success: quality tools and quality ingredients, cooked to perfection.
So how do you put it all together? Download these 3 simple recipe cards – tailored to the needs of specific advertiser verticals – to kick-start your path to becoming a programmatic mobile expert!
Automotive brands are like molecular gastronomy chefs: innovative, bold, and eager to test new technologies in order to delight customers and compete in a challenging industry. Here are a few techniques you can bring to the table, to ensure mobile campaign success: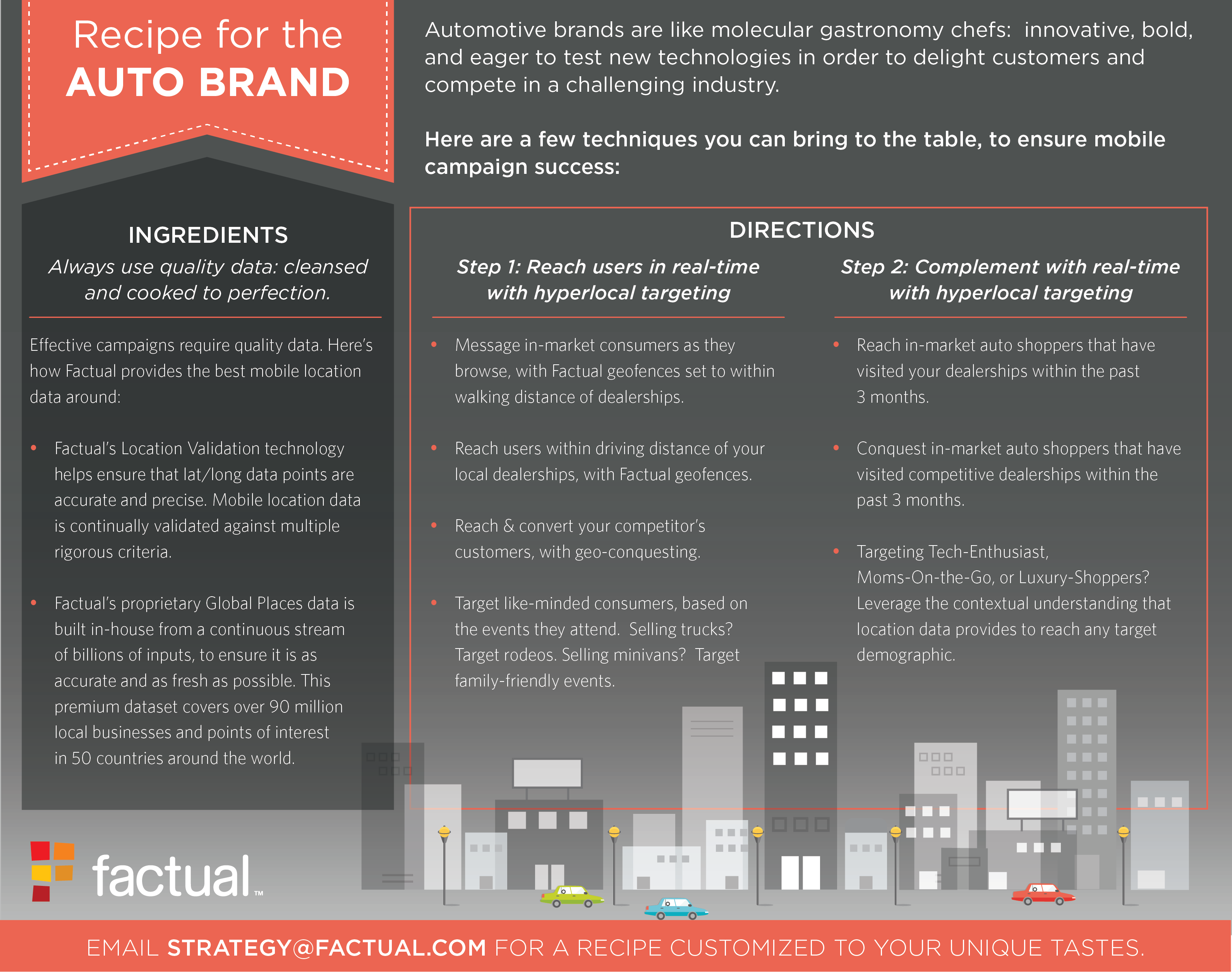 Travel brands are like your college cafeteria: they have to cater to many diverse taste buds. Segmentation is key, and the trick is provide tailored "menus" for specific segments. Here are a few techniques to craft the perfect menu for any audience and any campaign: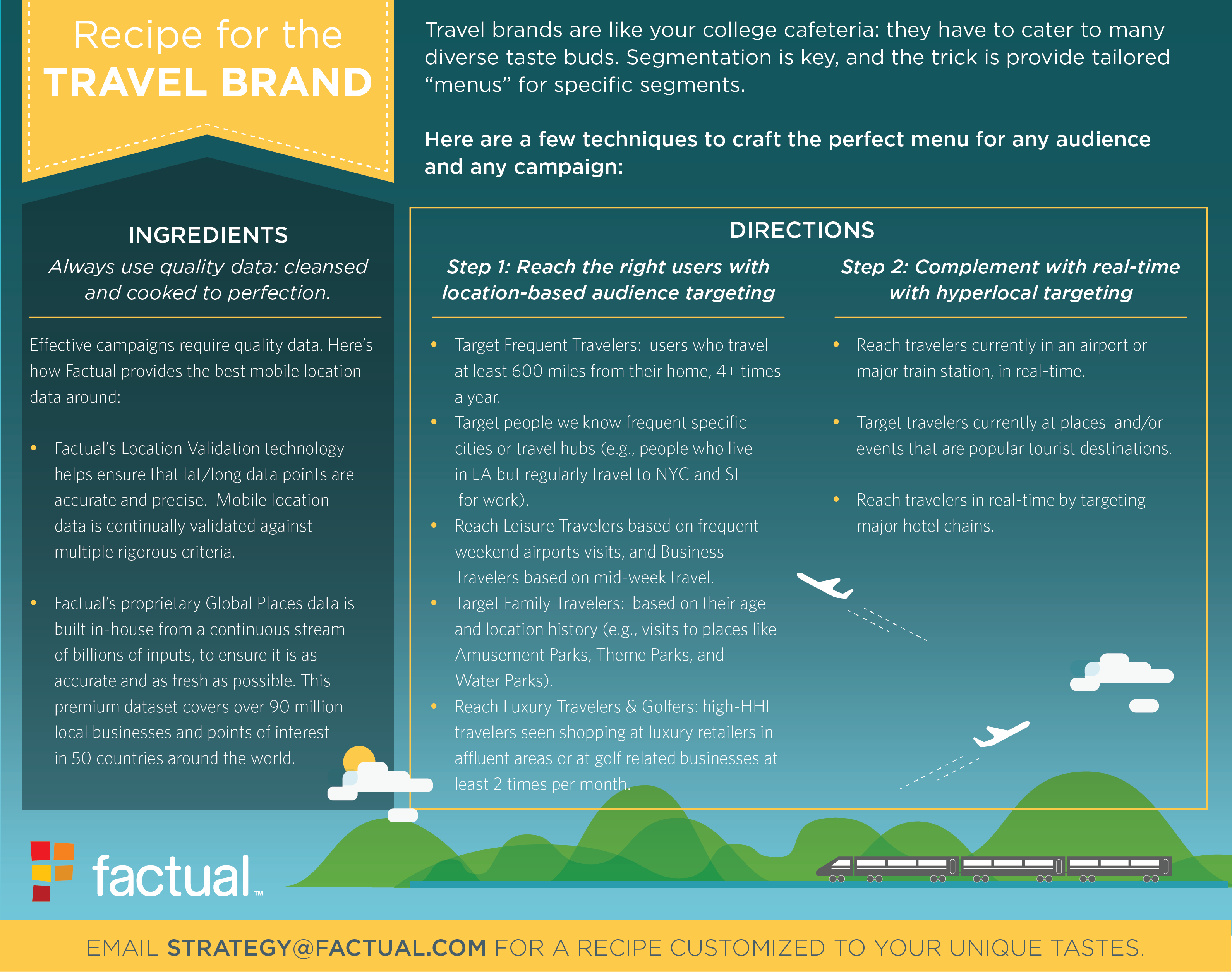 Retailers are like line cooks: they move fast, work hard, and live and breathe to delight their customers. Here are a few mobile targeting techniques to keep retailers well-fed in the holiday season and all year long: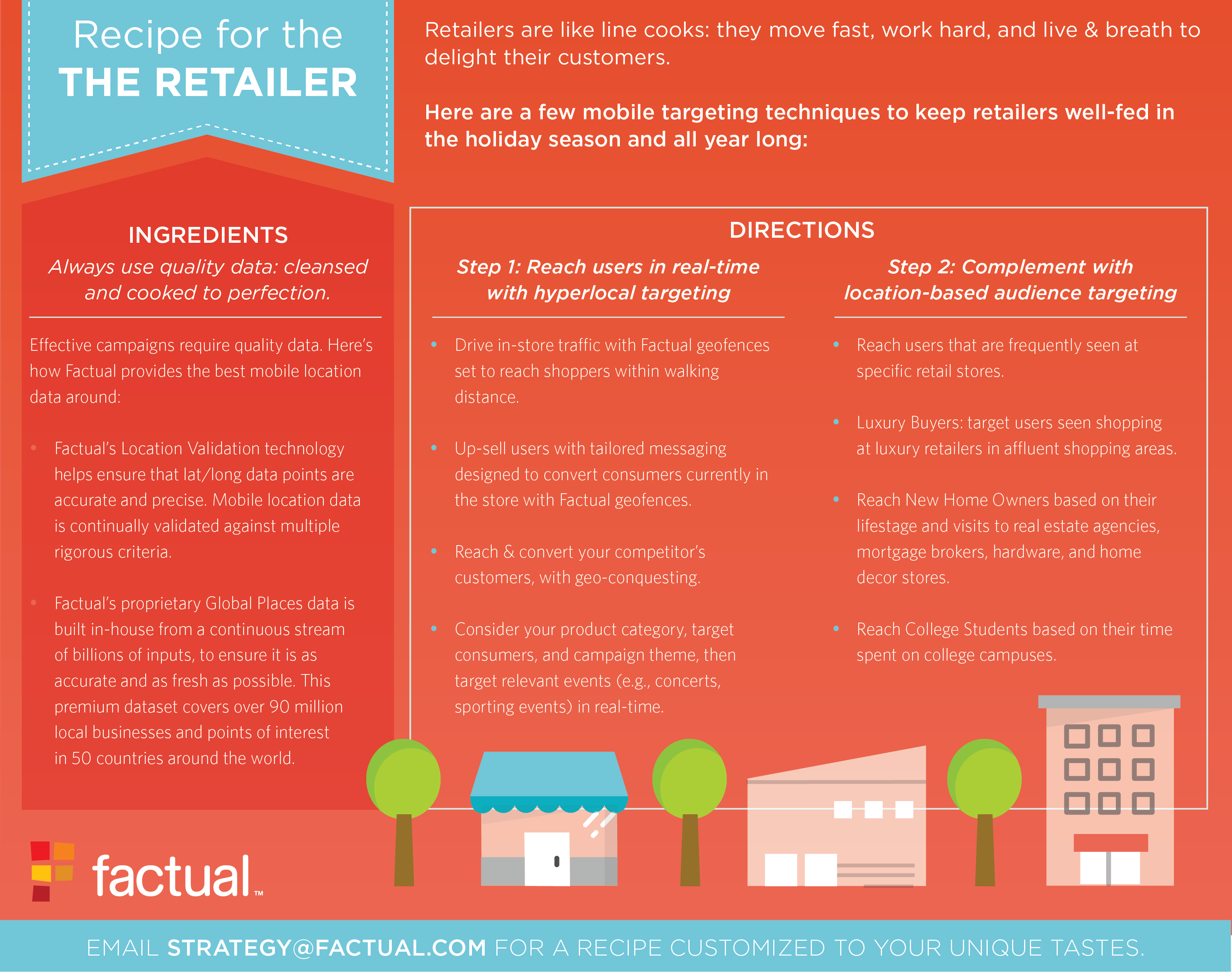 Factual: Quality Ingredients, Cooked to Perfection
Factual helps advertisers capitalize on the power of location, with the best mobile location data available:
Factual's proprietary Location Validation Stack ensures that lat/long data points are accurate and precise. With Factual, mobile location data is continually validated against multiple rigorous criteria, resulting in superior mobile ad targeting with improved performance.
Factual's proprietary Global Places data covers over 90 million local businesses and points of interest in 50 countries around the world. This premium dataset is built in-house from a continuous stream of billions of inputs, to ensure it is as accurate and as fresh as possible.
Contact Factual's Strategy Team to receive a recipe customized to your unique tastes.
About The Trade Desk
The Trade Desk (Nasdaq: TTD) is a technology company that empowers buyers
of advertising. Through its self-service, cloud-based platform, ad buyers
can create, manage, and optimize more expressive data-driven digital
advertising campaigns across ad formats, including display, video, audio,
native and social, on a multitude of devices, including computers, mobile
devices, and connected TV. Integrations with major data, inventory, and
publisher partners ensure maximum reach and decisioning capabilities, and
enterprise APIs enable custom development on top of the platform.
Headquartered in Ventura, CA, The Trade Desk has offices across the United
States, Europe, and Asia.