What Do You Drive? Patterns in US Car Dealerships
The first car I ever drove was my mother's Toyota Highlander. My friends got their first taste of the road much the same, on their parents Hondas and Toyotas, or perhaps Jeeps or Mazdas. Although I didn't notice it at the time, the majority of these cars were not American made. As it turns out, that was actually a pretty reasonable representation for New York-Northern New Jersey-Long Island MSA, where the ratio of popular American car dealerships is slightly lower than foreign ones (there are ~0.64 American car dealerships for each foreign dealership).
The map below uses Factual's Global Places data to compare the number of dealerships for American and foreign brands in each MSA1.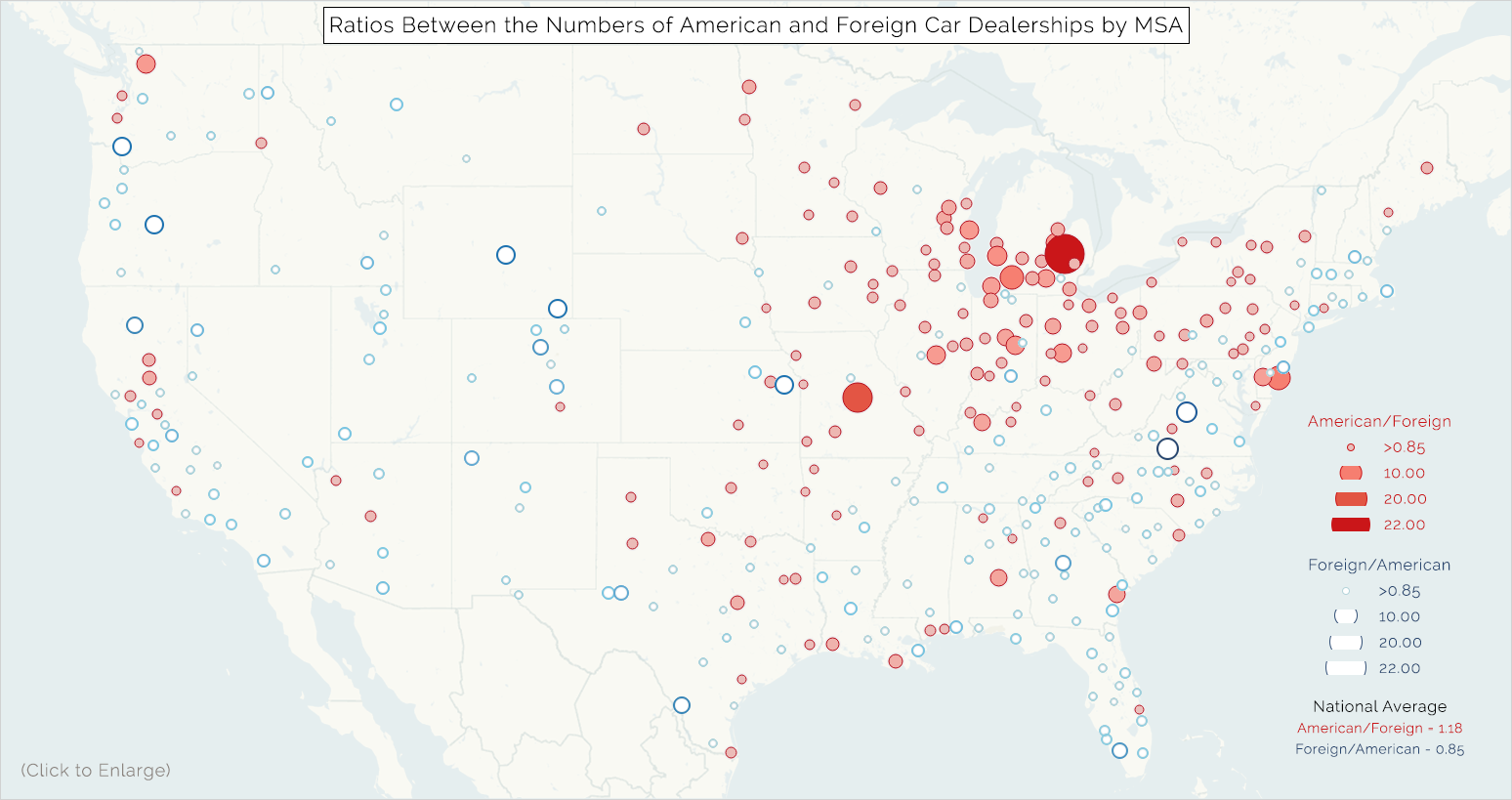 Red circles indicate MSAs where the ratios of American to foreign brand dealerships are greater than the national average. The size of the circle indicates the magnitude of this ratio. Blue and white circles represent the inverse – MSAs where the foreign to American ratio is greater than the national average2. The national averages used here are ~1.18 American dealerships /foreign dealerships, or ~0.85 foreign dealerships/American dealerships (For reference, the average ratio of new vehicle sales from American manufacturers to sales from foreign ones between 2002-2012 was about 1.16)3.
I wasn't shocked to see the dominance of American car brands in the Midwest, since it's the home of the US car industry. However, I was surprised to see the relatively high concentration of foreign car dealerships in the South and West.
It turns out that most foreign brand assembly plants are located in the South – this could explain the high volume of foreign dealerships in that region4.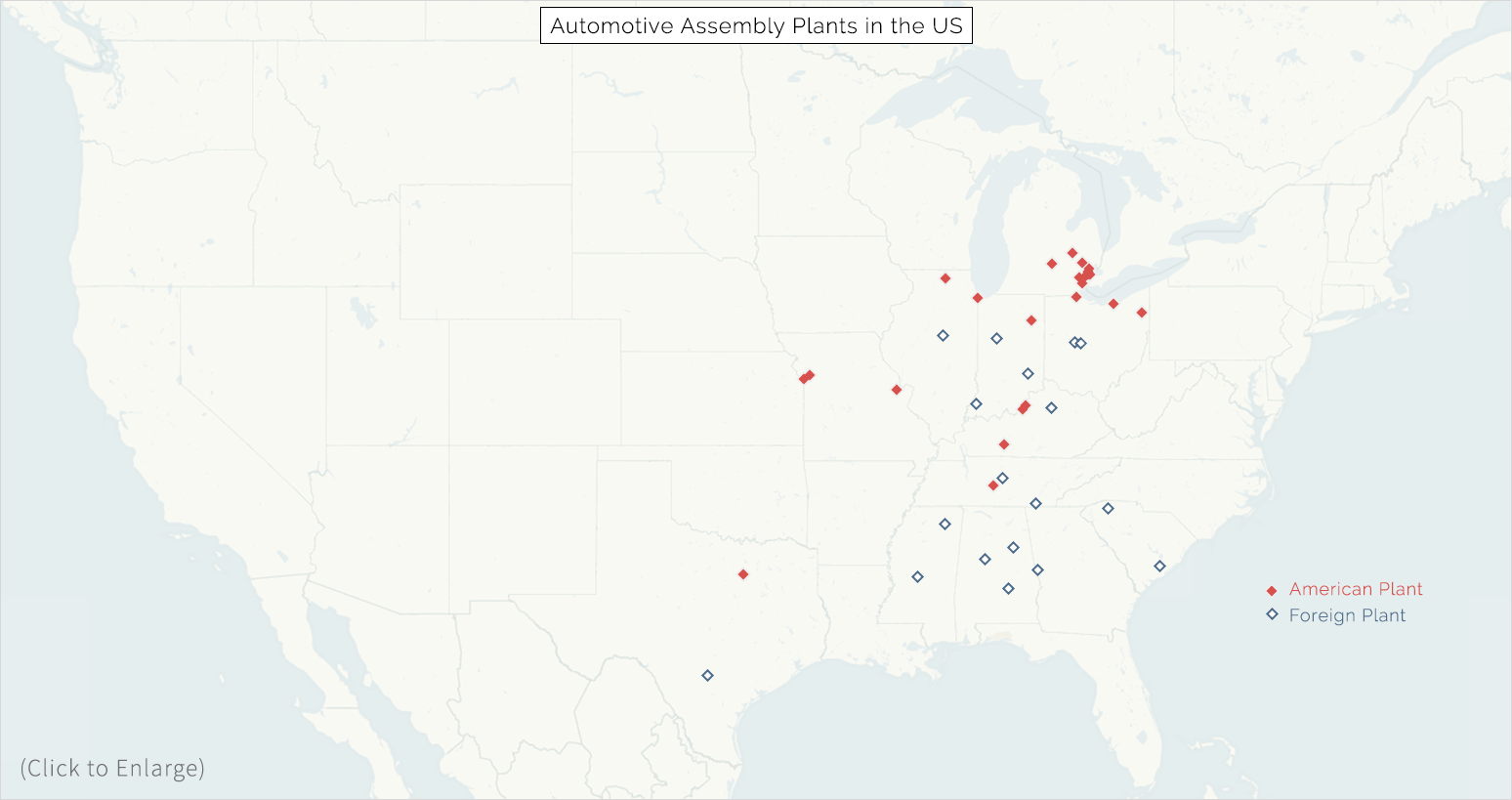 As for the West, one theory is that the high volume of foreign automaker dealerships is tied to fuel efficiency and emissions. Gas prices on the West Coast (in California in particular) tend to be higher than those in the East5, and in many cases emissions restrictions are more stringent. According to Edmunds.com, 8 of the 11 most fuel efficient sedans of 2013 were imports6.
Looking at the data, does anything stand out to you?
– Julie Levine, Marketing Associate
Notes:
1) The car brands used are based on top selling cars in the US of 2013. They include: Acura, Audi, Bentley, BMW, Buick, Cadillac, Chevrolet, Chrysler, Dodge, Fiat, Ford, GMC, Honda, Hyundai, Infiniti, Jaguar, Jeep, Kia, Land Rover, Lexus, Lincoln, Maserati, Mazda, Mercedes-Benz, Mini, Mitsubishi, Nissan, Porsche, Ram, Scion, Subaru, Suzuki, Toyota, Volkswagen, Volvo.
2) Some considerations for this analysis:
Inverse scales are used to prevent MSAs with a higher number of foreign dealerships from appearing as very small dots.
Not all car dealerships are considered, only those for "top selling brands." This undercounts the total number of dealerships (both American and foreign) in each MSA. That said, it accounts for the vast majority of dealerships and is sufficient for this exercise, as we are looking primarily at ratios not absolute counts.
The list of dealerships for each brand was generated by querying for Factual records with Category 4, "Automotive > Car Dealers and Leasing" and the business name containing of one of the "top brands." This likely underestimated the actual number of dealerships for each brand.
3) http://www.nada.org/NR/rdonlyres/1B512AC7-DCFC-472C-A854-6F5527931A2F/0/2013_NADA_Data_102113.pdf
4) http://en.wikipedia.org/wiki/List_of_automotive_assembly_plants_in_the_United_States
5) http://www.gasbuddy.com/gb_gastemperaturemap.aspx
6) http://www.edmunds.com/car-reviews/top-10/top-11-most-fuel-efficient-sedans-for-2013.html